Here they are, ready for the first day of school!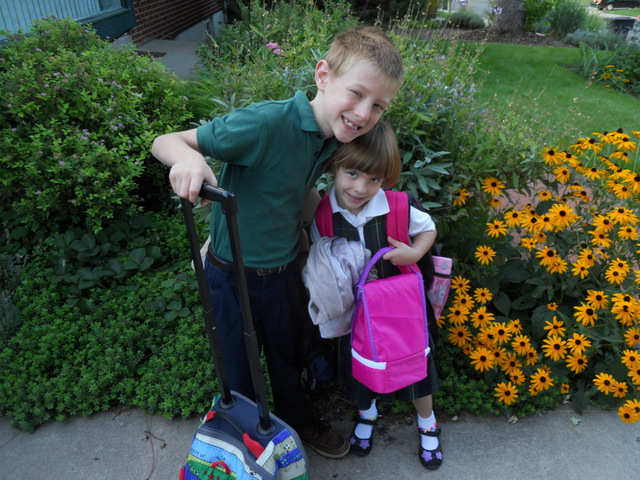 Nathan, Mr. Experienced Third Grader, rolled back into the swing of things without too much anticipation or hesitation.  He is taking his role as big brother very seriously, which I appreciate.  He is enjoying his teacher and his friends, and is happy that the homework hasn't quite started yet.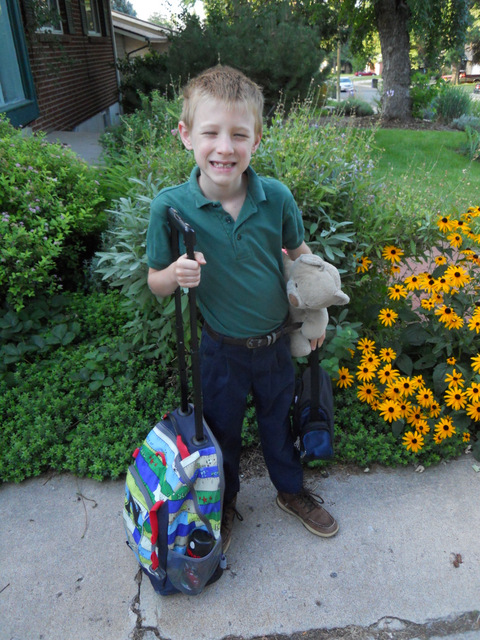 Katya was looking forward to the start of kindergarten with lots of anticipation and a fair amount of hesitation.  She is so proud of all her new school supplies, but was also pretty nervous especially the day or two before school started.  Her teachers are wonderful and we were able to see her new classroom a few times before school started, so that helped a lot.  When we finally walked into the room on the first morning she made it to her desk and started settling in.  She looked so small and yet so grown-up, all at the same time.  I managed to grin at her and say goodbye, but didn't dare turn around for long when I heard her call "Goodbye, mom!" as I left the room.  No tears were shed, but I was certainly close!
And no, don't worry, Nathan isn't bringing his teddy bear to school nor is Katya allowed to keep her blankie in her desk.  They do wait in the car for their respective owners, however…