October 2016 in Review, and Christmas Cookie #10
A favorite photo…
A few highlights…
The tree house begins
Family Fun night with all of us dressed in flamenco style
And a cookie recipe to go with it!

These are the Christmas treat that Nathan requests the most. When they turn out correctly, they make a lovely green and red addition to a cookie plate or a popular gift item. The temperatures are tricky, however, and I have had plenty of failed batches amidst the successes.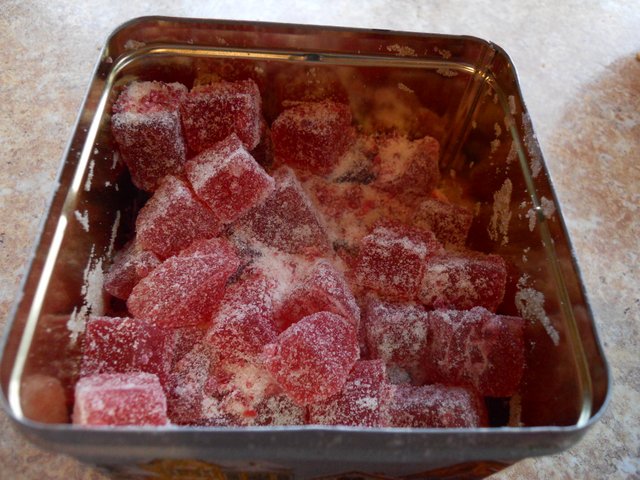 | | |
| --- | --- |
| | |
Line a loaf pan with aluminum foil, covering bottom and sides completely. Spray lightly with cooking spray and set aside.

In a heavy bottomed saucepan, combine the 1 cup sugar and the corn syrup. Cook over medium-high heat until boiling, stirring often with a wooden spoon for 3 minutes to dissolve sugar. Carefully clip on a candy thermometer.

Cook over medium heat (mixture should boil at a moderate, steady rate over the entire surface), stirring occasionally, until the thermometer registers 280 degrees F (soft-crack stage), about 7 minutes.

Meanwhile, in another heavy bottomed saucepan, combine juice, pectin, and baking soda. Mixture will be foamy. Bring to boiling over medium heat, stirring often. This should take about 2 minutes. Remove saucepan from heat and set aside.

When sugar mixture in first pan has reached soft-crack stage, remove from heat. Remove candy thermometer. Return pectin mixture in second pan to boiling.

Gradually pour the hot sugar mixture into the boiling pectin mixture, stirring constantly. This step should take 1-2 minutes. Don't rush! Cook, stirring constantly, for 1 more minute.

Remove saucepan from heat. Pour candy mixture into prepared loaf pan. Let stand until firm--overnight is best.

While candy cools, make the flavored sugar. Place 1/2 cup sugar and the zest of the lime or grapefruit in a food processor. Pulse several times to combine well. Transfer flavored sugar to a bowl or lidded Tupperware.

When candy has set, use foil to lift it out of the pan. With a wet knife, cut candy into strips and then cut each strip into cubes. Toss squares in the flavored sugar to keep them from sticking together.
The gumdrops (if they turn out) keep well for several weeks.