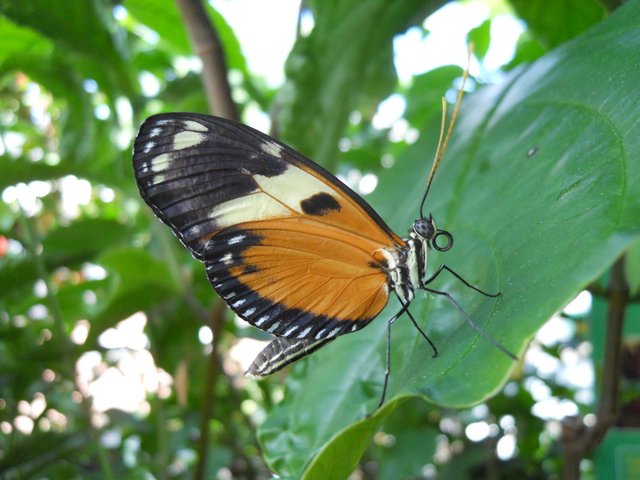 Nope, that butterfly picture doesn't have anything to do with this recipe.  I'm not much of a food photographer, though, so you get that to look at instead!
This salad is a great autumn choice, full of rich colors and complimentary flavors.  It is also a good option for entertaining, since the kale stands up well to being dressed ahead of time.  Give it a try!

Preheat the oven to 400 degrees. Peel the sweet potato and cut it into small 3/4 inch cubes. Toss the sweet potato cubes with olive oil, thyme, salt, and pepper. Spread the seasons sweet potatoes on a rimmed cookie sheet covered with aluminum foil. Roast the sweet potatoes in the preheated oven for about 35 minutes or until golden brown on the edges.

Meanwhile, take the leafy parts of the kale off of the thick stems and place them in a food processor fitted with the knife blade. Pulse 3-4 times until kale is finely chopped (but not pureed!). Mix the finely chopped kale with torn spinach leaves and lettuce (if using) in salad bowl.

Top greens with warm sweet potato chunks. Sprinkle with sunflower or pumpkin seeds and dried cranberries. Toss with vinaigrette and serve.
The original version of this recipe came from Budget Bytes.
If you are making this salad ahead of time, roast the sweet potatoes up to a day in advance.  Warm them back up in the oven if desired before assembling the salad.  The kale can also be diced and tossed with the other greens several hours before serving.