December 2016 in Review, and Christmas Cookie #12
A favorite photo…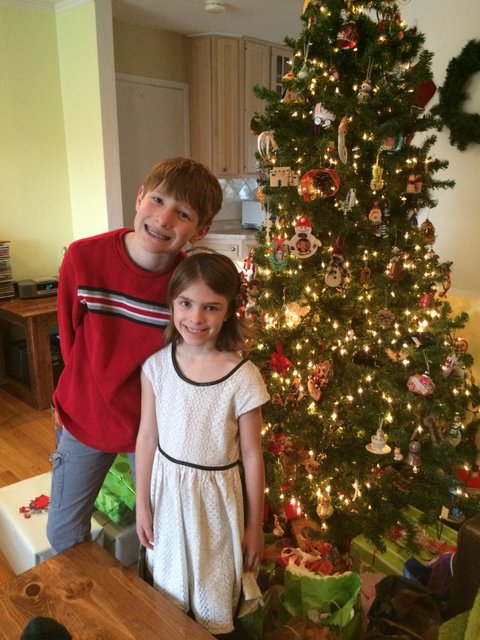 A few highlights…
A December rich in favorite activities and traditions (in contrast to our Senegalese adventure from last year)
Nathan as Gabriel and Katya as a black sheep in the Christmas pageant
The annual studio Christmas recital
Celebrating the season many different times with groups of family and friends
And a cookie recipe to go with it!

This is the gingerbread I have made every year since Than and I were married. If you don't roll it too thin or bake it too long, the cookies stay soft and spicy for weeks. We decorate them with white royal icing, sprinkles, and lots of red hots. An annual tradition, for sure, and one that we have happily shared with many different guests over the years.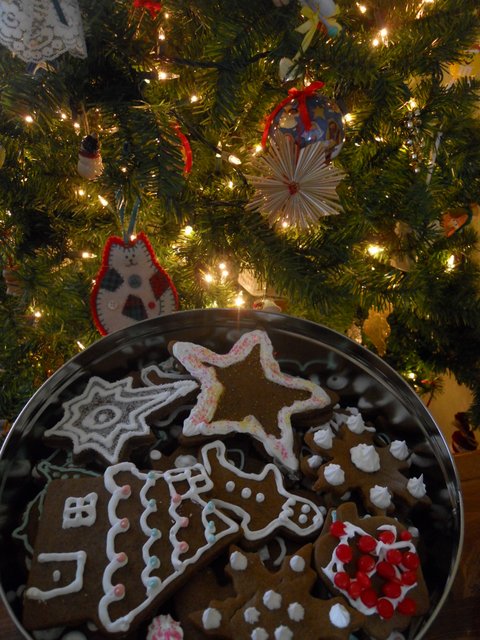 | | |
| --- | --- |
| | |
Thoroughly stir together the flour, cinnamon, ginger, cloves, salt, and baking powder in a large bowl; set aside.

In the bowl of an electric mixer, beat together the brown sugar, butter, and oil until smooth and fluffy. Beat in the molasses and 2 1/2 Tbsp. water until well blended.

Turn mixer speed to low and blend in as much of the flour mixture as possible. When it gets too strong for your mixer to handle, knead in the remainder by hand until the dough is smooth and shiny. If the dough is too stiff and dry, add up to 3 Tbsp. more water. If it is too soft, stir in more flour until it is manageable.

Cut 6 pieces of waxed paper. Split the dough into 3 pieces and place each piece on a sheet of waxed paper. Cover with the additional 3 pieces of waxed paper. Roll each dough piece out to an even 1/4-1/2 inch thickness (thinner for crispier cookies, thicker for softer cookies). Stack the rolled dough in the refrigerator and allow to chill for at least 1 hour and up to overnight.

Preheat the oven to 350 degrees. Spray several cookie sheets with cooking spray.

Working with one portion of dough at a time, peel off the top sheet of waxed paper. Use cookie cutters to cut out the dough and place the cookies on prepared baking sheets, spacing about 2 inches apart.

Bake cookies at 350 degrees for 6-12 minutes, or until just darker at the edges and barely firm when pressed in the centers. Baking time varies based on the size of your cookies and on how soft or crispy you want the finished product to be.

Reroll dough scraps between waxed paper sheets. Continue cutting, rolling, and chilling dough until everything has been used.

Allow cookies to cool on the baking sheet for 3-4 minutes in order to firm up slightly before transferring to the counter or to wire racks to cool completely.

Wait until cookies are completely cool before decorating as desired.
This recipe is from The All-American Cookie Book by Nancy Baggett.