Crunchy Kale Salad with Orange Ginger Dressing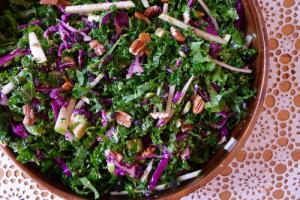 | | |
| --- | --- |
| | |
Shred the kale and red cabbage. Add to your bowl.

Quarter the cucumbers and slice them into small quarter slices. Julienne the green apple. Cube the avocado if using and scoop it into the salad. Sprinkle the lemon juice over the apple and avocado so they don't turn brown.

Toast the sesame seeds in a 400 degree oven for 2-4 minutes, until toasty but not burnt.

Whisk together the orange juice, sesame oil, grated ginger, rice vinegar, soy sauce, and honey until well incorporated. Add the toasted sesame seeds.

Add the pecans and currants to the bowl, then pour the dressing over it and toss well in a large bowl. Dress the whole salad even if you're saving some for later because it ages well.