Pork and Veggie Enchiladas
We enjoyed so many good dinners with friends over the holiday season!  This recipe was requested by one of our guests, and I am happy to share it.
Since I am not a food photographer, I will also add some unrelated photos to this post just to make it more interesting.  One of the fun things we sometimes do in a busy entertaining season is print up a large coloring tablecloth to be enjoyed by guests both young and old.  Here's what the Christmas one looks like: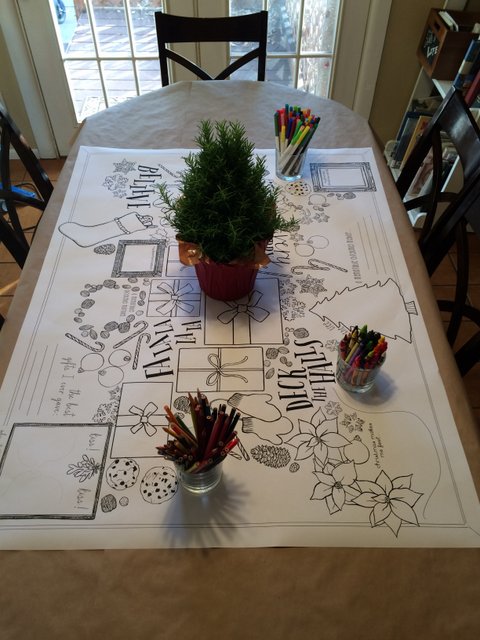 I think the adults have even more fun than the kids, sitting around with pencils and markers, doodling and shading while they talk.  It's a great way for different ages to hang out together.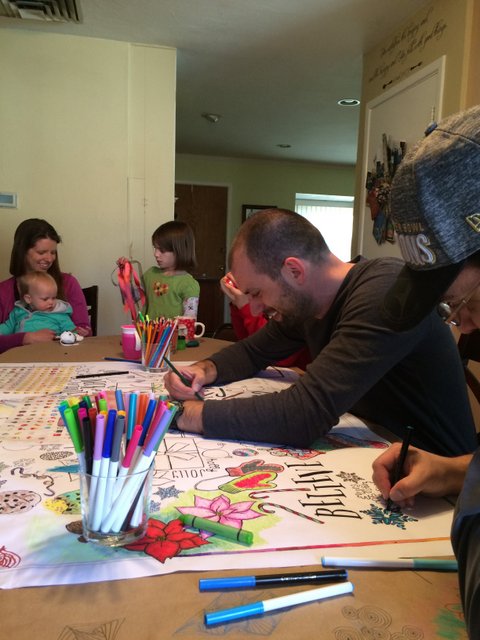 If we are careful, the coloring might even survive more than one dinner party.  We never get it totally finished, but it is fun to watch the colors and patterns grow over a few days before it is time to say goodbye.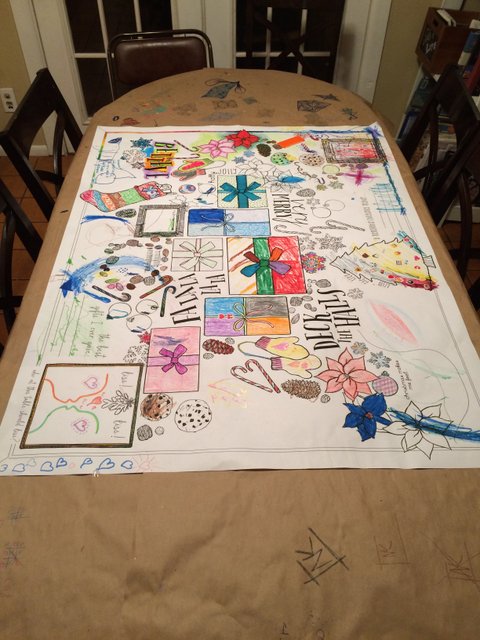 (If you want more info about the tablecloth, here is the website where I purchased the file: http://caravanshoppe.com/  I've gotten lots of really good printables from them!)

These tasty enchiladas prove that you can hide all kinds of interesting veggies in a dish. As long as it is smothered in enchilada sauce and cheese people will love it! I started with a Penzey's recipe and modified it significantly to fit my tastes and what I had on hand. Don't be afraid to experiment!
Preheat oven to 350 degrees. Grease two 9x13 pans, or one 10x15 and one 9x9. (I use a big one for company, and then freeze the little one for a later dinner).

Brown the pork in a large skillet or electric frying pan over medium heat until no longer pink, about 8-10 minutes. Drain well.

Add onion, bell pepper, carrot, celery, and Southwest Seasoning or other herbs. Cook until the veggies are softened, about 8-10 minutes.

Add the beans, zucchini and corn. Add 1/2 cup of the enchilada sauce. Stir to combine thoroughly. Cook over medium heat until everything is heated through, about 10 more minutes.

Spread a thin layer of enchilada sauce over the bottom of each baking dish.

Microwave the corn tortillas wrapped in towels or plastic wrap for 1 minute or until steaming hot. (If they break when you try to bend them, heat them up some more!)

Put a few spoonfuls of pork and veggie mixture in the center of each tortilla and roll as tightly as possible. Place seam-side down in prepared baking dishes. Continue until your pans are full, you run out of tortillas, or you run out of filling.

Pour the remaining enchilada sauce over the enchiladas. Sprinkle evenly with shredded cheese.

Bake enchiladas at 350 degrees for 35-45 minutes, or until the cheese is melted and beginning to brown around the edges.

Serve with desired toppings--we like sour cream, avocado, lime wedges, and cilantro.
When I made this recipe, I ran out of tortillas before I ran out of filling, so I froze the rest of the filling for later use inside quesadillas or on top of nachos.  If you are freezing half the batch, cover the assembled enchiladas well with foil and plastic wrap.  A disposable square aluminum cake pan works great, and after covering it with foil it slides easily into a 1 gallon ziploc freezer bag.  Label and freeze!  When you are ready to use them, thaw as much as possible (overnight in the fridge is best).  Cook covered for 25-35 minutes, then uncover and cook 20-30 minutes more or until browned and bubbly.