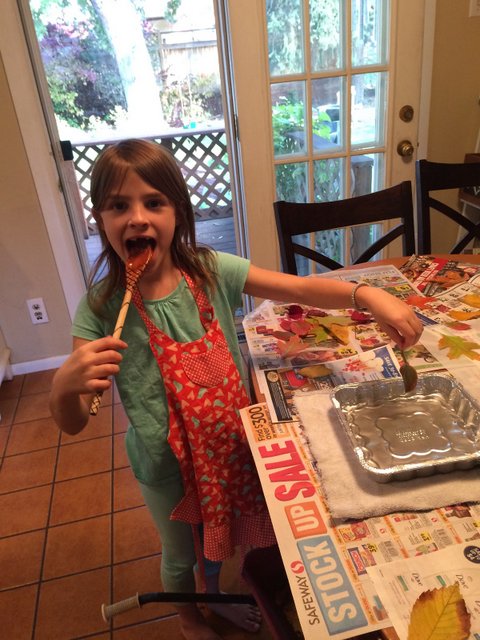 Katya's favorite fall treat has now been made 4 times this season!  It turns out that these cider caramels are pretty popular, and the more we hand out as gifts the more requests we get.  Katya helped me make the first batch, learning a lot about both the waiting and the rushing that goes into home candy making.  Katya left the cooking of subsequent batches up to me, but both she and Nathan had a wonderful time handing out these delectable treats to teachers and friends.  Yum!
(And no, there are no leaves in the caramels–the photo shows Katya licking off the caramel spoon in one hand while doing a wax-leaf dipping project with the other.  Crazy kid!)

These delicious homemade caramels have a slight spiced cider flavor that makes them particularly special. The temperature of candy making is always a bit tricky, but even if they turn out harder than desired they can be broken apart with a mallet and enjoyed just the same.
Pour cider into a medium saucepan and boil on high for 15-20 minutes or until cider is reduced to 1/3 cup. Keep an eye on it--it goes from thick to burned pretty fast!

Line an 8 inch square pan with parchment paper. Coat with a bit of cooking spray or rub with the butter wrapper to grease. Set aside.

While the cider is boiling, get out a second saucepan. Pour 1/3 cup whipping cream into a glass measuring cup. Add enough water to make 1/2 cup. Pour that into the empty saucepan. Add sugar and corn syrup. Cook over low heat until the sugar dissolves. Insert candy thermometer and simmer until the syrup reaches 234 degrees. (At my altitude, it is actually 222 degrees).

While sugar mixture heats, keep pouring the apple cider into a clean glass measuring cup until it is only 1/3 cup. When it has reduced enough, pour it into that measuring cup and let it cool. While it cools, stir in remaining 2/3 cup cream, cinnamon, nutmeg, and allspice. Mix well.

When the sugar mixture has reached temperature, remove it from heat and slowly whisk in the cider cream mixture. Add the cubed butter and stir until everything is melted and mixed.

Return the pan to low heat and re-insert the candy thermometer. Cook, stirring frequently, until the temperature reaches 248 degrees (236 degrees at my altitude). This part can take a really long time--sometimes 20 minutes or more!

Remove the mixture from the heat and pour into the prepared pan. Careful, it is a bit tricky to pour! Let the caramels cool completely at room temperature. It takes several hours, so try just leaving it overnight.

Hopefully the caramels are soft enough that you can use kitchen shears to cut them into long strips, and then cut them into 1/2 inch squares. You can try to individually wrap them in squares of waxed paper, or put them into mini muffin papers which is much easier!
Recipe from Our Best Bites: http://ourbestbites.com/2010/11/apple-cider-caramels/
Sometimes my caramels set up unusually hard, and I have to break them into bite-sized pieces with a kitchen mallet.  Sometimes they are a bit soft and when I put them in the mini muffin papers they gradually take on the shape of their container.  Either way, they taste good and are totally worth the work!