Random Recipe Round-Up
Random Recipe Round-Up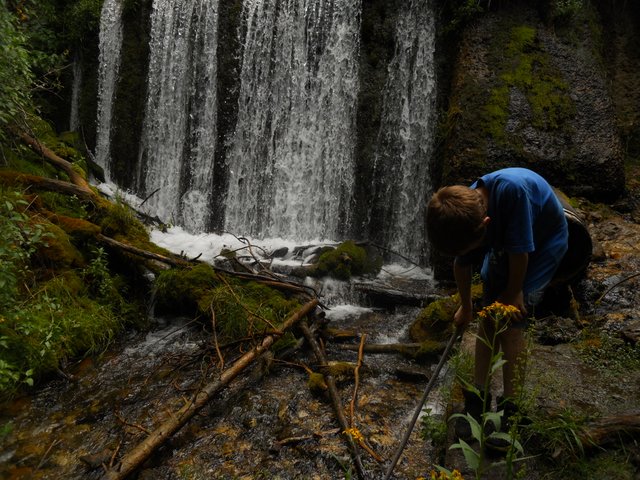 As someone who Pinterests a lot and someone who cooks a lot, it is inevitable that I try tons of different recipes from all around the internet.  You have two choices with this post:
1) Ignore the recipes and enjoy the random picture I put at the top, since I don't actually take pictures of my food.
2) Check out the recipe commentary below and wonder why on earth I put a random picture at the top.
Go for it–either option is completely acceptable.  Now, in no particular order, 10 recent Pinterest recipe finds with my quick comments about how they turned out:
1. Soft Baked Peanut Butter Chocolate Swirl Cookies
Doesn't the title say it all?  As promised, these turned out nice and soft.  The flavors were distinct enough to justify the two different batters and it was worth the work it took to combine the two flavors for each cookie.
2. Honey Balsamic Spring Salad
This recipe is for a dinner salad with grilled chicken on top, but I skipped the chicken part and served it as a side salad.  The best part was the honey balsamic dressing, especially because I have REALLY good balsamic vinegar.  I also liked the inclusion of grapes and goat cheese, two ingredients I wouldn't have thought of on my own.
Never had fennel before?  It has the texture of celery with a licorice flavor (it is also called anise) that can be either well loved or really disliked.  If you haven't tried it, or even if you have tried it and didn't like it, perhaps grilling it is the way to go.  The licorice flavor is considerable mellowed when cooked, and people will be very impressed that you even know what fennel is!
4. Chocolate Chip Strawberry Cake
Yum!  This pretty springtime dessert wasn't too hard to make and turned out very pretty and flavorful.  We aren't big cake fans around here, but this was almost like a bar cookie so it passed the family taste test.
Than is a big drink connoisseur, so this one was for him.  Lemonade can sure take a lot of lemons, and this was a nice way to take advantage of a lemon sale and get several batches of lemonade out of one block of work time.   Sometimes homemade lemonade doesn't seem remarkable enough to justify the effort, but this batch sure was.
I made these mostly because the picture was so pretty, and that is really just because of all the fun sprinkles, but they were actually really good.  I used Greek yogurt instead of sour cream so mine turned out quite soft, almost like a dense moist cake, but they were nice and tangy.  Almost good enough that I didn't wish I was eating a chocolate dessert instead!
What to do when the chive plant is flowering?  Make chive vinegar, of course.  It is super simple to make and turns such a pretty color.  Now, the question becomes "What do you make with chive vinegar?"  I'll let you know when I figure that out…
This is another recipe that I picked mainly for the picture.  I didn't have fresh pineapple, so I just went with skewering strawberries and bananas and freezing them.  I was too lazy to do dipping chocolate, so I just served them with pour-your-own homemade chocolate sauce.  And I forgot to put out the nuts.  So basically, I didn't actually make this recipe, but I was inspired by it.  Whatever!  However you do it, this is an easy, colorful, gluten free summer dessert or snack.
9. Chinese Chicken Pasta Salad
A colorful, healthy, filling summer meal.  An excellent choice for those hot days when no one feels like being complicated about dinner.  For make-ahead ease, keep the dressing separate.  Toss the veggies together into a colorful blend.  Put all the crunchy things in another bowl.  Then, make individual servings with veggies, cooked chicken, crunchies, and top with dressing.  You can easily get two meals from this recipe, or eat half and share half with someone who needs a pick-me-up.
10. Grilled Zucchini with Lemon Salt
Grilled zucchini itself is a summertime staple.  If you don't cook zucchini on your grill very often you should start!!  I season it lots of different ways, but I'm putting up this recipe because it is from Pioneer Woman, so it is funny, and the lemon salt topping is really delish.
There you go–10 recent Pinterest Recipe finds.  I'll give you more once I make another list of 10.  Enjoy!