Spring Break-The Destinations
Spring Break-The Destinations
Once we finally made it to St. Louis, we enjoyed mini trips to nearby attractions both familiar and new.
The most original destination was our day trip to Maramec Cavern.  My kids had never been inside a cave before and we were all impressed with the stunning formations, fun stories from our guide, and the amazing size and variety of things God made underground.  Katya and her second cousin were good exploring buddies and Nathan proved to be an able assistant to his great-grandmother.  Lunch at a fun red barn restaurant, a stop at my grandparent's favorite winery, an assortment of car games and songs, and a dinnertime visit to the California Pizza Kitchen rounded out the day nicely.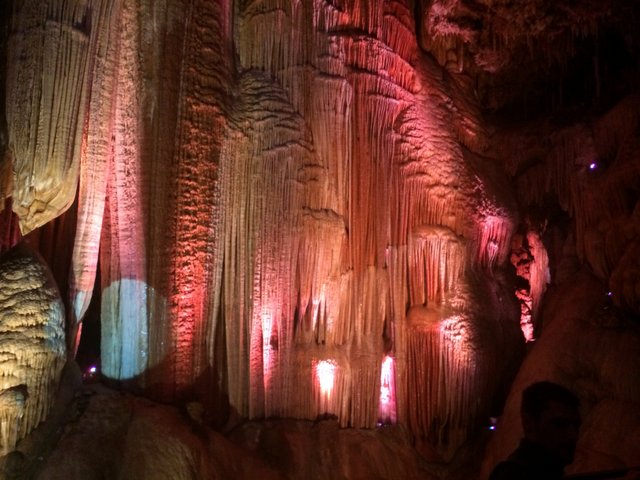 Another popular, although familiar, destination was the Butterfly House at Faust Park.  March is "Blue Morpho Month" there, so the greenhouse was all aflutter with extra iridescent blue butterflies as well as the other usual varieties.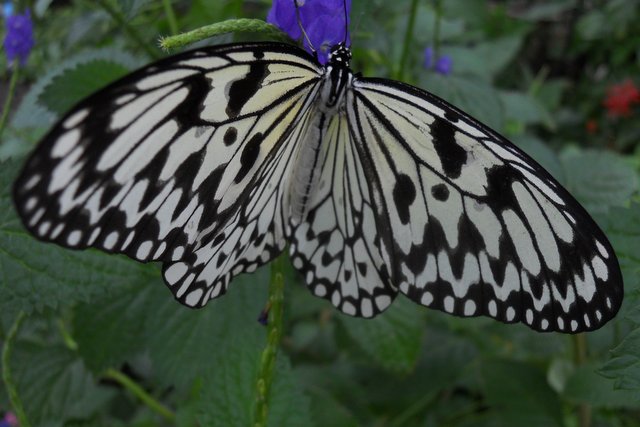 Our trip to the zoo was cut short by rain and cold, but we still got to see the sea lion chase Than's hat with great gusto and laugh at the orangutans antics, including a momma protecting her baby.
However, our favorite St. Louis destination once again was the City Museum.  We've been there as a family three times now, but there is always plenty that is new.  We spent the entire day inside, with only a brief foray out for lunch at a nearby city diner.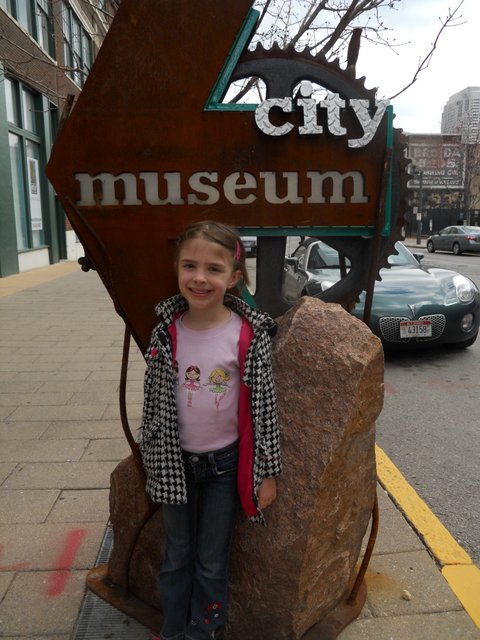 I think the most original treat on this visit was the chance to play the vintage silent movie theater organ.  It is incorporated into the main center shaft of the museum, with pipes and air-powered instruments tucked away around the central ten story slide.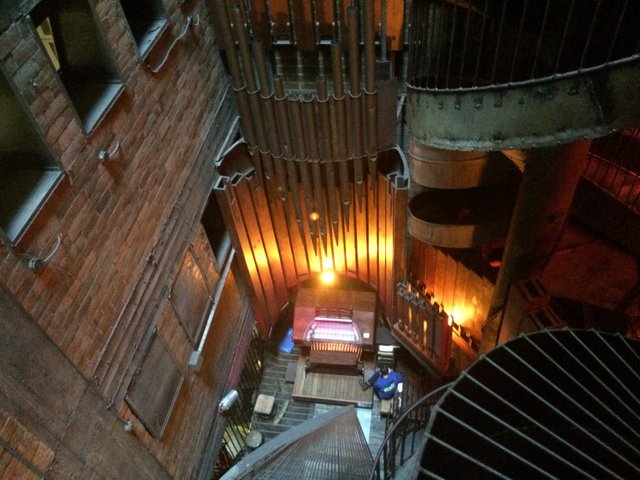 We happened to see the repairman at work on this intricate instrument, and he let us behind the gate and gave us a "tour."  He let us all experiment with the three keyboards, the foot pedals, and the different sounds.  Then he played his favorite pre-recorded selection that showed off lots of the features of this old treasure.  It was a very unique experience, and also special to talk with a dedicated volunteer about a craft he is passionate about.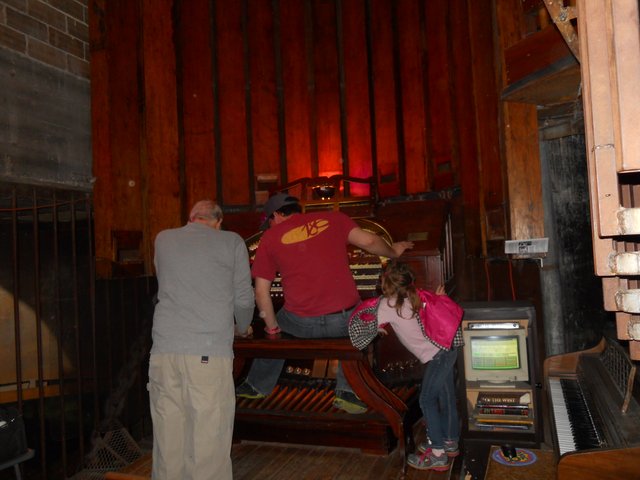 Of course the tunnels and murals are always a hit, and the kids were much more willing to go off exploring together.  The game this time was for them to crawl in a passageway and one of the adults to guess which exit they would pop out at.  We were rarely right!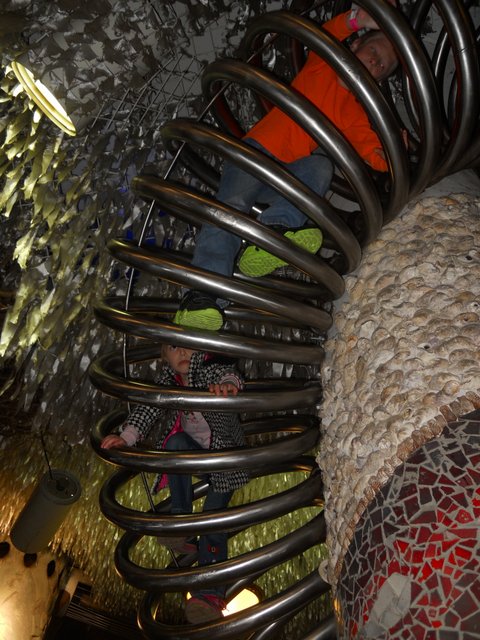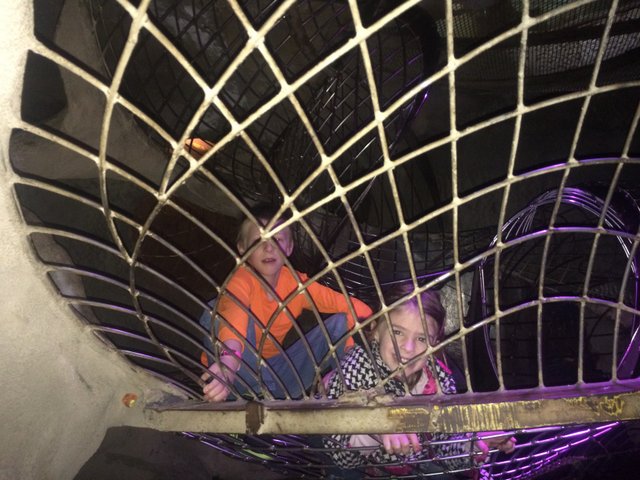 Our day at the City Museum was also the only day all week we didn't have rain, so we were free to explore the outdoor climbing and sliding several times as well.  Out here, it was fun for a kid and parent to team up and crawl around together, then eventually run into the other half of the family and switch partners.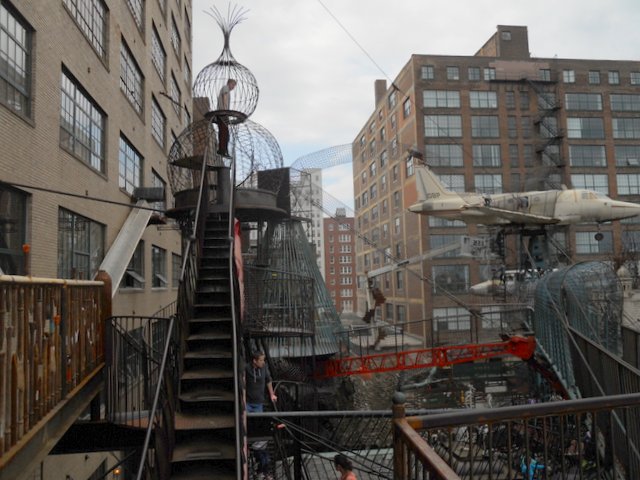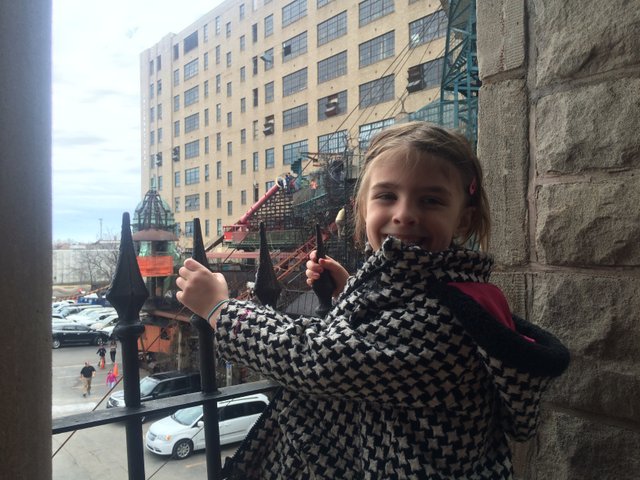 A final special feature of our City Museum day was the fun juggler/mime circus show that ended up featuring Daddy as a willing and hilarious volunteer.  I think the kids had almost as much fun watching him as they did watching the talented professional performer, and it was certainly memorable!