We took our annual road trip to Idaho, always a much-anticipated getaway for our family.  We'll put Yellowstone in one post, Idaho 4th in another, but this post is for our adventures getting there and back.
This year we went a different direction, heading to Utah for a stop at Dinosaur National Monument.  We arrived in the late afternoon and took the shuttle bus to see the famed dinosaur bone wall.  Junior Ranger booklets in hand, Nathan and Katya had fun looking at the dinosaur parts and pieces.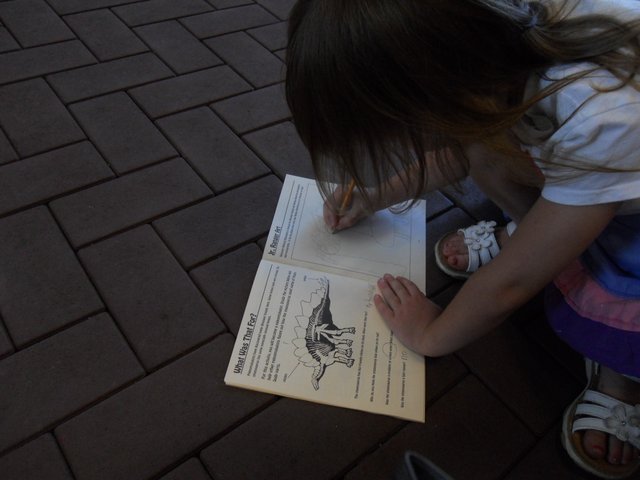 Of course, Nathan was equally attracted to the cool video search tool that helped you identify which dinosaur parts you could see in various parts of the display.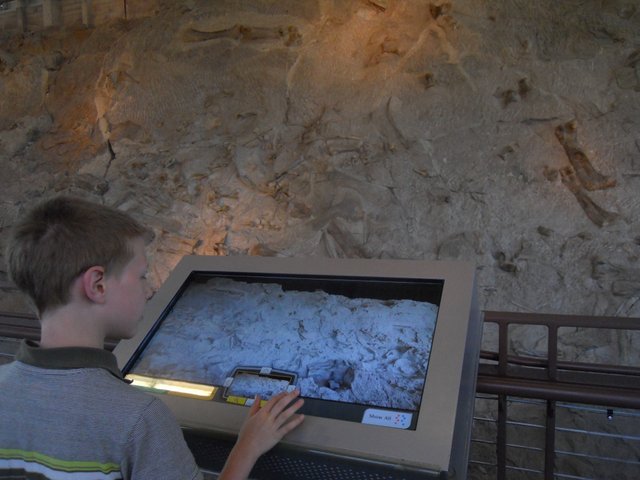 After a hike back to the main visitor's center, featuring several lizards and a rabbit or two, we drove on to spend the night at a lovely bed and breakfast nearby, The Jensen Inn.  I'm not sure how often you visit Vernal, Utah, but if you do, stay there!!
The next day we headed for Montpelier, ID to meet mom and dad with their trailer for a night of camping before heading back to Idaho Falls.  We visited the local Oregon trail museum with an unforgettable (and often quite humorous) living history tour from our "Wagonmaster Dub".  I've never had a tour given by a 12 year old boy in costume and character before, but he did an admirable job with our group 🙂
We also enjoyed a swim at nearby Lava Hot Springs.  Both kids enjoyed the water slides, and Nathan even went down one of the really big fast ones!!
At the end of our trip we took the usual route home.  Here are a few of the car activities that were hits this time:
LOTS of Adventures in Odyssey listening.  The whole family likes these radio shows and the library has plenty.  Katya often colors while she listens, and Nathan had fun filling out an Adventures in Odyssey listening bingo that I made up with blank bingo card (started as an idea from this website.)
I usually pick out some new art supply to give out, and this time it was twistable colored pencils.  They were a particularly good car choice because they don't melt like crayons when left in a hot vehicle!
The kids also had fun making silly faces with dry erase markers on laminated black and white photos, based on a post from this blog.
Add some beads and pipe cleaners to make jewelry, throw in Nathan's travel games and Katya's imagination, mix it up with kids who can amuse themselves more and more the older they get, and you have a recipe for great car travel!