A Budding Romance
A Budding Romance
When asked to write a sentence and draw a picture about spring, this is what Katya came up with: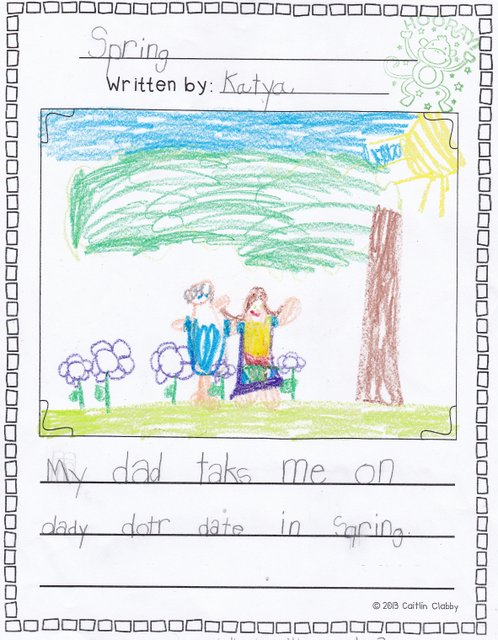 She wrote, "My dad takes me on daddy daughter dates in spring."
Now, I love the fact that my husband takes both of our kids out for special one-on-one times, but in the spring Katya is particularly thrilled about the Father Daughter Dinner at our church.  Thanks to the hard work of a great team, each spring brings the chance for dads to show their girls what a special date can really feel like.  The main room is beautifully decorated, the girls can make special accessories the week before to wear or carry, and the lucky couples enjoy good food, fancy desserts and fun dance lessons.
Katya has been looking forward to the evening for a long time.  This year's theme was the Kentucky Derby, hence the elaborate hat.  Katya laid out her clothes two days before, tried the outfit several times just to make sure, and was very impressed that Daddy got a new hat to wear as well.  Than does a good job of "romancing" our little girl well.  He brought her flowers, helped her add some to her already-decorated hat, and generally focused on crafting the evening to give her a good picture of how a man should treat a girl he cares about.  I am so glad for his strong influence over her ideas of love and romance, and I pray for the man that will most likely come her way someday.  May he love God and care for Katya as well as her daddy does!