Pinterest Project Post
Pinterest Project Post
I am attempting to break the Pinterest cycle of finding a good idea, saving a good idea, going back to Pinterest to find the good idea, and spending 2 hours looking at other good ideas instead of getting anything done at all!!  This summer I have chosen 2 kid-friendly Pinterest ideas for each week we are planning to be home.  I printed out photos of them, and stuck them in my old-fashioned paper calendar.  I've also collected any necessary supplies for all of these ideas in the hopes that maybe we will actually have more fun DOING things than just THINKING about doing things!!
(As a side note, here is an interesting and challenging article for me with my love of Pinterest.  It's called "God's Board."  Hmmm….)
Anyway, here are a few things we have enjoyed so far…
Original Post from "Inner Child Fun" about creating a Fairy Mural
Our fairy mural…
The reality of making a fairy mural…
To my surprise, Nathan jumped into the project enthusiastically, so I imagine that Katya's reluctant response was a reaction to his enthusiasm.  She was annoyingly grouchy for half of the activity, but finally she gradually came around.  We left it up for about a week and they both enjoyed adding more details later.
Original Post from "Irresistible Ideas" about snap painting
Our snap painting…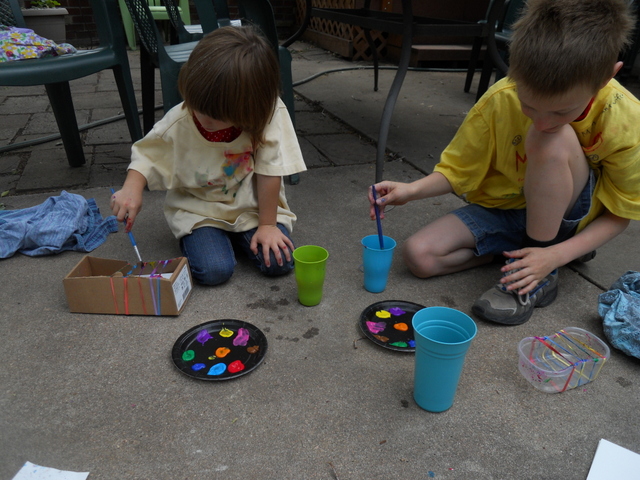 The reality of snap painting…
This was the perfect project for the day we were staying outside while the kitchen counters got redone.  Both kids had fun, and I did too.  We got quite messy, and the results were more subtle than the photos in the original blog post, but the process was quite satisfactory.  After we tired of snap painting, we used up the rest of the paint on our palettes to make paint blog butterflies.  I had pre-cut the paper to fit on the front of a greeting card, so a few days after our artwork dried we mounted it to make thank-you notes.
Original Post from a Danish website "Badut" about perler bead tops
Our perler bead tops…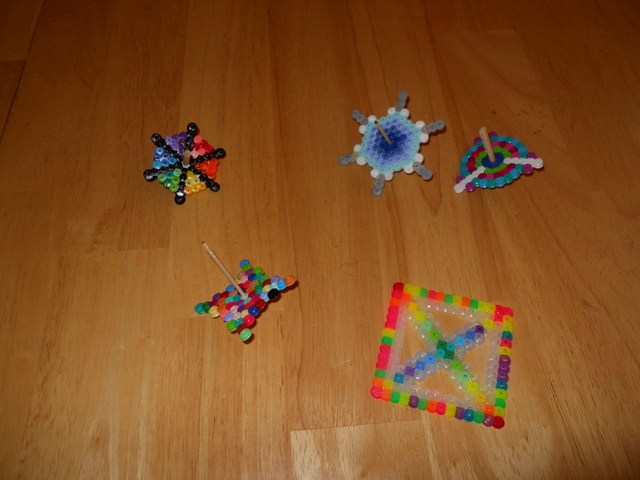 The reality of perler bead tops…
I was the only one who actually made a top, since the kids preferred to use the dog and cat and turtle bead forms we have.  Oh well!  I had fun designing them, and they work GREAT.  Both kids enjoyed watching them spin, and we have played with them a few times since we made them.  (It turns out that grown-ups also like tops.  Just ask Daddy or Uncle Nate or Grandpa!)
Tune in later this summer for some more Pinterest Project results!