Pinterest Project Post 2
Pinterest Project Post 2
Some more updates on Pinterest projects that worked, and some that didn't work so well…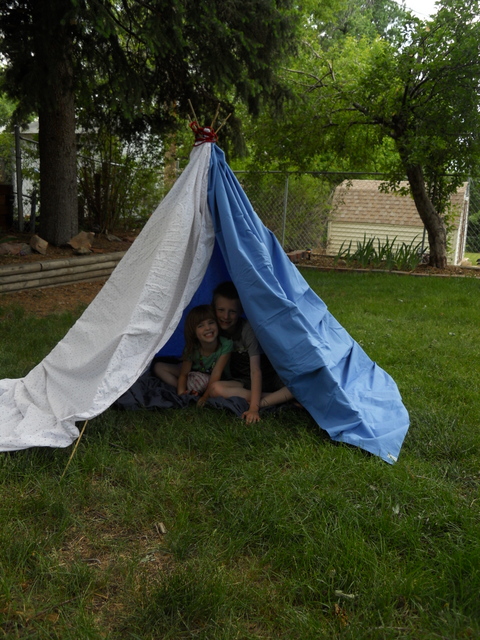 I first saw this tent idea posted here.  It sounds easier than it was for me to do, that's for sure!  The kids helped a little, but lost interest after a while because I didn't know what I was doing.  When I finally got it to stay up, they played inside for a while.  Eventually the wind blew it down so I re-constructed it in their secret play area behind the garden bushes.  It stayed up for a few weeks there, providing some extra shade even though it wasn't really big enough for both kids to fit in at the same time. When we took it down, we saved all the parts so the stakes will be recycled into the garden and the sheets repurposed to protect our tomatoes from the fall frosts.  I would say we did get our money's worth out of the $3-$5 package of bamboo stakes, but it wasn't quite as glorious as it looked in the pictures.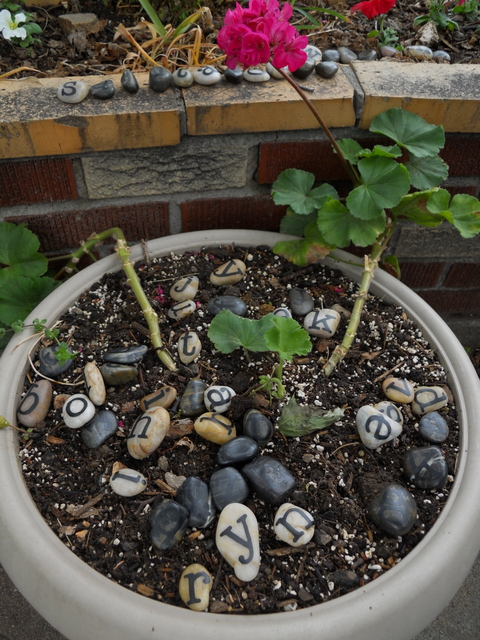 OK, this one has nothing to do with the above photo but I didn't take pictures of a few of these things, so just pretend!  We tried water balloon target practice, an easy and fun activity.  Just throw water balloons or wet sponges at targets drawn on the pavement with sidewalk chalk.  Not quite as fun as it could have been, since my kids are too afraid of losing to actually keep score, but still amusing.
Since a new Goodwill store opened up at a nearby shopping center, we stopped in one day to drop off some excess stuff and I gave the kids permission to each choose one electronic item that cost less than $5.  The idea was they could take it home and deconstruct to their hearts' content, unscrewing and taking apart and exploring just like this mom described in glowing terms.  Turns out they both picked old computer keyboards, and then (after arguing about who had the coolest keyboard) they had so much fun pretending to type on them that neither was willing to take theirs apart.  Oh well, so much for my creativity–who's to say my idea was any better than theirs!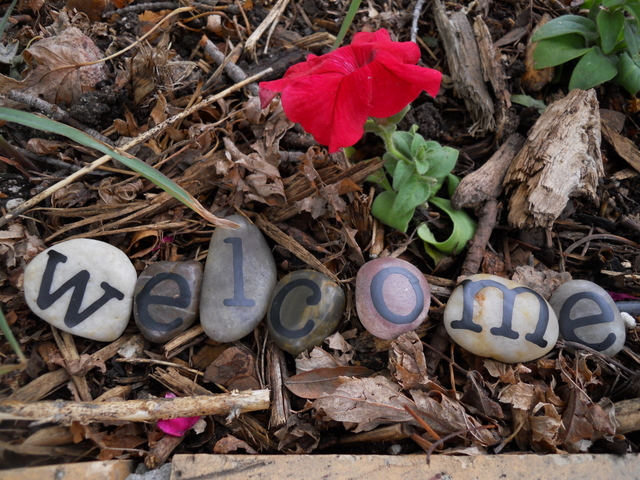 This rock idea was prompted, not by Pinterest, but by a visit to our botanic gardens.  Their children's garden has a pile of rocks with letters written on them in Sharpie marker.  I decided vinyl would be even better, so I used a bag of polished decorator stones and stuck on a bunch of letters cut with my Cameo.  I've had lots of fun spelling words in my flowerbed, and Katya has finally come around to the idea of sounding out my messages.  I store the extras in the geranium pot.  The kids don't use them as much as I had imagined, but I've had fun 🙂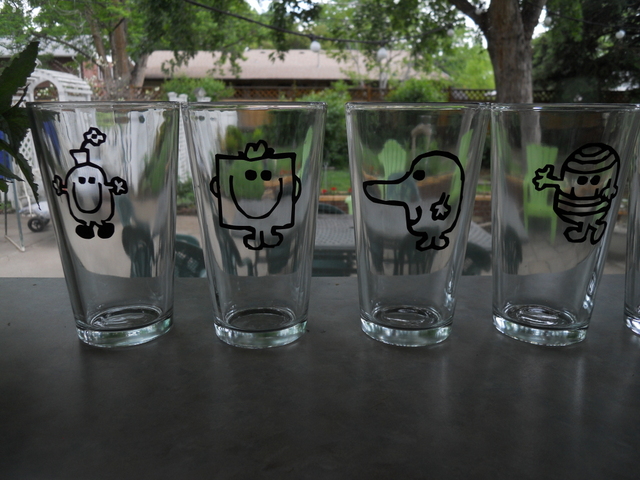 My final project for this post–vinyl Mr. Men on our everyday glasses.  A fun way to keep track of who's glass is whose.  We had to post a picture of all the characters inside the cupboard door so the kids can identify who is who!